Welcome to the official That Joe Scott Sketch Madness Challenge!
I'm pitting 16 intro Sketch videos from the Answers With Joe YouTube Channel against each other and you get to decide which Sketch will reign supreme!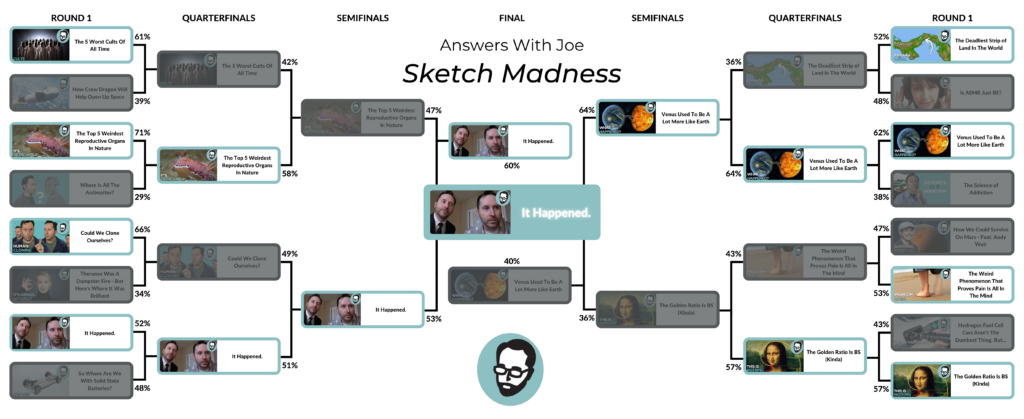 ---
We have a winner!
The "It Happened." Sketch Is Your 2023 Sketch Madness Winner!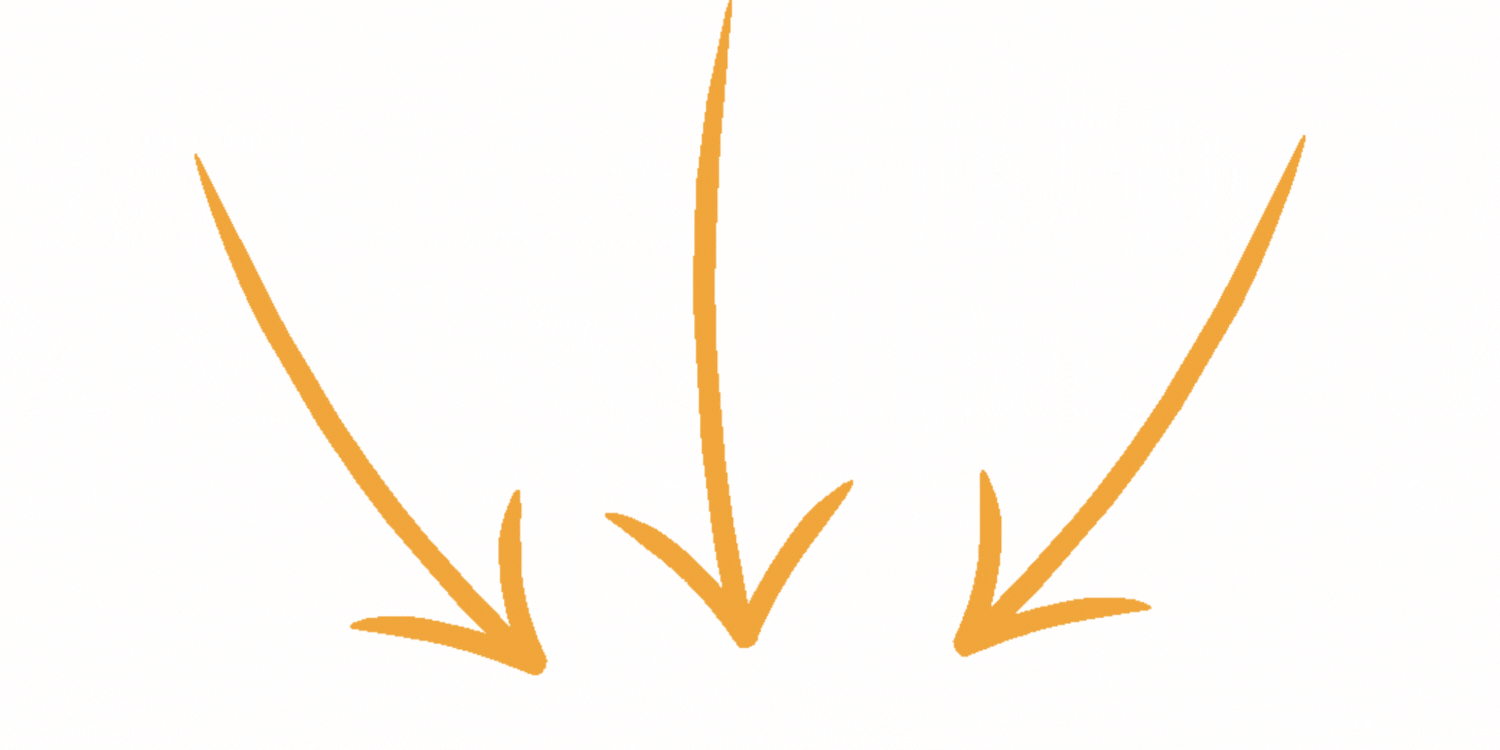 Thank you to everyone who voted!
---
Here is the breakdown:
Starting April 3rd, for the following 4 weeks, we will have 4 rounds of voting going from 16 of the top Answers With Joe Sketches, to 8, to 4, to 2, and then we crown the Sketch champion on April 24th!
Voting for each round will start on Monday mornings and run through 11:59pm CT on the Thursday of that week.
I will announce the Sketch winners on the next Monday video and the next round of voting will commence!
Each Sketch has new corresponding merch! All voters get 20% off any of the merch you want! Be sure to use code MADNESS at checkout to receive the 20% off.
You can find all of the new merch here at the following links:
For your votes, you'll be entered to win prizes! The more you get right, the bigger the prize!
The details to win prizes are:
Get 5 or below matchups correct – You get to be a unique individual that walks to the beat of your own drum. (Nothing. You fail. Just kidding, but not really.)
Get 6-8 matchups correct – You get 6 months of Patreon/Member perks (livestreams, early access) for 6 months!
Get 9-11 matchups correct – You get half off all the merch! I will send you a discount count for that gives you access to 50% off all merch for 7 days.
Get 12-14 matchups correct – You get a free item of merch, your choice!
Get all 15 matchups correct – You get exclusive access to an upcoming live event.
---
Here is the Final Round 4 Matchup and Associated Merch:
Round 4 | Final Matchup
"It Happened." Sketch vs. "Venus Used To Be A Lot More Like Earth" Sketch
---
Here are the Round 3 Matchups and Associated Merch:
Round 3 | Matchup 1
"The Top 5 Weirdest Reproductive Organs In Nature" Sketch vs. "It Happened." Sketch
---
Round 3 | Matchup 2
"Venus Used To Be A Lot More Like Earth" Sketch vs. "The Golden Ratio Is BS (Kinda)" Sketch
---
Here are the Round 2 Matchups and Associated Merch:
Round 2 | Matchup 1
"The 5 Worst Cults Of All Time" Sketch vs. "The Top 5 Weirdest Reproductive Organs In Nature" Sketch
---
Round 2 | Matchup 2
"The Deadliest Strip of Land In The World" Sketch vs. "Venus Used To Be A Lot More Like Earth" Sketch
---
Round 2 | Matchup 3
"The Weird Phenomenon That Proves Pain Is All In The Mind" Sketch vs. "The Golden Ratio Is BS (Kinda)" Sketch
---
Round 2 | Matchup 4
"Could We Clone Ourselves?" Sketch vs. "It Happened." Sketch
---
Here are the Round 1 Matchups and Associated Merch:
Round 1 | Matchup 1
"The 5 Worst Cults Of All Time" Sketch vs. "How Crew Dragon Will Help Open Up Space" Sketch
---
Round 1 | Matchup 2
"The Top 5 Weirdest Reproductive Organs In Nature" Sketch vs. "Where Is All The Antimatter?" Sketch
---
Round 1 | Matchup 3
"The Deadliest Strip of Land In The World" Sketch vs. "Is ASMR Just BS?" Sketch
---
Round 1 | Matchup 4
"Venus Used To Be A Lot More Like Earth" Sketch vs. "The Science of Addiction" Sketch
---
Round 1 | Matchup 5
"How We Could Survive On Mars – Feat. Andy Weir" Sketch vs. "The Weird Phenomenon That Proves Pain Is All In The Mind" Sketch
---
Round 1 | Matchup 6
"Hydrogen Fuel Cell Cars Aren't The Dumbest Thing. But…" Sketch vs. "The Golden Ratio Is BS (Kinda)" Sketch
---
Round 1 | Matchup 7
"Could We Clone Ourselves?" Sketch vs. "Theranos Was A Dumpster Fire – But Here's Where It Was Brilliant" Sketch
---
Round 1 | Matchup 8
"It Happened." Sketch vs. "So Where Are We With Solid State Batteries?" Sketch